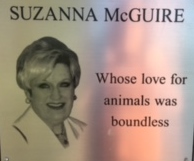 The feelings of loss can be overwhelming after saying goodbye to a beloved pet. Losing someone with whom you have had a very close bond, is arguably one of the most difficult things in life. It is perfectly natural to grieve in any way you see fit.
As you mourn for your pet, it is natural to want to keep his or her memory alive. If you would like to commemorate and celebrate the never-enough time you had together, we offer plaques for the Pet Memorial Wall that is located at the Hutchinson Dog Park.
"Death of a pet can cause grief similar to that in human bereavement. 1
_________________________________________________________________________
[1] McNicholas J., Gilbey A., Rennie A., Ahmedzai S., Dono J.-A., Ormerod E. Pet ownership and human health: A brief review of evidence and issues. BMJ Br. Med. J. 2005;331:1252. doi: 10.1136/bmj.331.7527.1252.