Hutchinson Dog Park
Cause for Paws, Inc., built the Hutchinson Dog Park located at 1501 South Severance Street, Hutchinson, KS, to provide dogs an area to socialize and be off leash.  CFPI members raised the funds and oversaw the construction of the Dog Park. We continue to "adopt" the Dog Park as our own.
A partnership between CFPI and the Hutchinson Parks & Facilities Department provide upkeep at the park.
If you see any maintenance issues at the Dog Park, please call (620) 694-1905.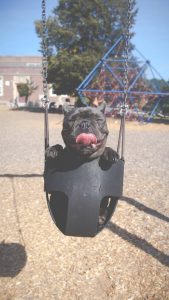 Hutchinson Dog Park Rules
Clean up after your pet
Limit 2 dogs per visit
Dogs must be licensed with the City of Hutchinson and vaccinated
Dogs in season not allowed
Puppies under four months of age not allowed
Spayed/Neutered dogs recommended
All dogs declared dangerous pursuant to Section 7-409 of the Code of the City of Hutchinson, Kansas, not permitted to use this park and not allowed on the premises.
Dog owners are 100% responsible for their dogs' actions; Dogs must be removed from the park at the first sign of aggression
Dogs MUST be leashed entering and before leaving the park area and owners MUST have a leash at ALL times
Dogs left unattended will be impounded
Spayed/Neutered dogs recommended
Individuals under 16 need to be accompanied by an adult
No glass containers or food allowed in park area; alcohol, tobacco and drugs are prohibited
No chew bones, rawhides or pigs ears
The City of Hutchinson reserves the right to close the park for any reason and/or restrict entry to the park and/or ask persons to leave the facility if rules are not followed or if unsafe behavior is observed.